For a 15-year-old girl I have to say that I have been to way too many gigs for my personal well-being and my bank account. I don't know what it is, but when I go to a certain show that I've been looking forward to for months, I get this rush of adrenaline, I get really hyped up and for some reason, time seems to be running faster than I would have liked (duh, it's because you're excited!) and I've always had a really lovely time.
But for some unknown reason, there were some weird things happening on every single show (maybe the band did them, maybe something what I was thinking), which, looking back, are pretty darn hilarious, so I decided to share them with you (and perhaps make you a tiny bit jealous, just kidding).
That was the actual picture someone took when she sang Howl, it was amazeballs! (siol.net)
The first gig I ever went to was
Florence + The Machine
, which is a really good place to start, I think. I got the ticket as a birthday present from my sister and I can't say that I didn't enjoy myself. I loved it and for good and solid 3 years, they have been my favourite band ever and after seeing them live, my love for them has just... risen higher and higher. I might have not listened to them constantly (I did have my emo-phase in between), but I always kept coming back to them. I love them loads.
Anyway, they started off with a song called 'Howl' and people were pretty darn excited and the whole place was very crowded and it was a very tiny venue (about 400 people I think) and we danced like crazy, but what we didn't know is that they were going to play a song called 'Girl With One Eye', which has always been a rare song to play live and we didn't expect them to play it live and nobody bothered to learn the lyrics and it was basically Florence singing the whole song on her own and trying to encourage us to sing along, but we couldn't, because we didn't know the lyrics and we just looked around thinking: "Well, this is awkward."
After she finished the song, she said on the microphone: "Well, that was fucking pathetic, wasn't it?" and we all laughed really loudly.
Also, at one point between You've Got The Love, Robert Ackroyd forgot to play the guitar and Florence and Isabella were looking at him like: "Come on, dude, start playing," but he just seemed to be lost in his own universe, until Isa shouted at him and he finally woke up.
...and I was about a couple of feet away from catching Florence's drumming stick. *eternal struggle nu. 1*
I had a couple of moments during the entire show where I almost melted... (24ur.com)
The second gig, about a year later, were
White Lies
. I love them as well and it was about two weeks before they released their second album, Ritual, so we knew that there will be mostly new songs on the playlist and that we'll just listen and we won't sing along, but at the end there were quite a few of their older songs, so I did enjoy myself.
Multiple times during the whole concert, my thoughts were basically: "Holy crap, I've seen these guys on YouTube earlier today," and I had to pinch myself multiple times over and over again, just so that I could realise that this was actually happening. Also, I had a feeling that Harry McVeigh was looking into my eyes and that was trough the whole show. I'M ALLOWED TO DREAM, OK?!
Also, I was two feet away from catching Harry's guitar pick. *eternal struggle nu. 2*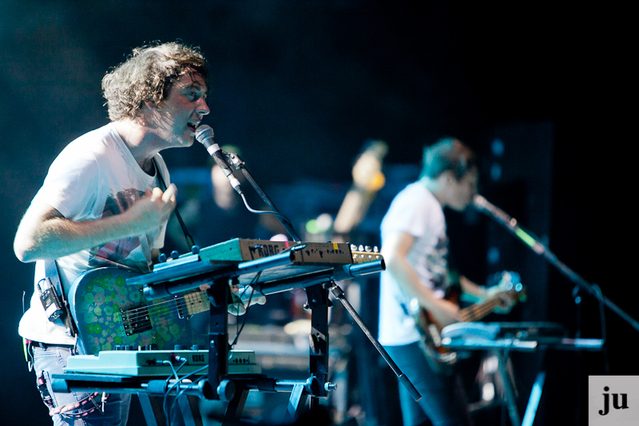 (zvpl.com)
(radiostudent.si)
The third gig was a year and a half later, when I saw
Editors
and
The Wombats
live on a festival in Slovenia. The Wombats got their one and a half hour slot and it was just after they've released This Modern Glitch, which was actually really good and I loved it.
Besides the fact that the guys dressed up in onesies and wore panda masks on their heads, it was actually a really good show, because I don't remember that any other band communicated with their crowd as much as they did. They asked us if we've ever been to Liverpool, where they're from and how were we doing and if we liked the show so far and how were we feeling and stuff like that and it was really bloody nice of them.
Before they started with their song Party In A Forest (Where's Laura?), the drummer Dan Haggis said to us: "This next song is a bit slower than any other, so feel free to dance or just put up your phones, lighters, penises, whatever,"
Yes, he said penises. My jaw was on the floor.
Also, a girl pushed me in a pond of beer and I didn't catch Matthew Murphy's panda mask. *eternal struggle nu. 3*
Editors were also pretty bloody good and it was kind of a spiritual experience and I loved it, although I felt like I needed to go to church and confess all my sins, bearing in mind, I am an atheist. That's how big of an impact the show had on me.
It's a shame I couldn't find any of my own photos, they were SO GOOD! (siol.net)
Then, the fourth show, about eight months later, were
The Kooks
. For this one, I was genuinely more excited than any other, because I've been preparing for months and I've been learning their lyrics by heart for more than 5 months and I was so pumped up about this show. It was about a couple of months after they've released their third album, which, I do admit, don't like that much and I was scared that they will play only the new songs and no old ones (such as Do You Wanna, You Don't Love Me and Always Where I Need To Be) and it was the complete opposite. There was barely any sign of the new album and they played all of those old songs of theirs that I love with all my heart (they even played Seaside and Jackie Big Tits, people!) and I was happy as fuck.
But the best is yet to come... I caught Luke Pritchard's guitar pick. FINALLY I CAUGHT SOMETHING! I've been waiting for that moment for about two and a half years and I couldn't possibly believe it and I shouted so loudly that people probably thought I was completely retarded, but they knew why I shouted like crazy. I caught his guitar pick after many failed attempts to get something from the band and I am still incredibly happy about that.
Basically, the story goes this way; he threw it into the crowd, it landed somewhere near me, but nobody caught it until my sister spotted it on the floor, said: "KATHERINE, PICK IT UP!" and pretended to faint whilst I crawled between a someone's legs and picked it up. That genuinely happened. #dedication
(music24.si)
(delo.si)
And about 6 months later, I went to see
Keane
and
Zulu Winter
for the 40th anniversary of the best radio station in Slovenia that plays the best tunes on the whole entire planet. They planned on inviting some other bands, I think they wanted The National and Franz Ferdinand, but they couldn't get them. Instead we got those two, but I doubt that this would happen with Franz Ferdinand or The National.
The show was amazing; Zulu Winter warmed the crowd up and then Keane went on. I didn't know every song that they played, but for a change, I actually knew who the band supporting Keane were. I run Tumblr blog on indie music (fuck-yeah-indie-music.tumblr.com) and someone recommended them to me and I was listening to them like bloody mental and I was super excited to see the perform. The biggest surprise of them all was that I didn't know they were even playing, so you can imagine my face when I saw them on stage.
Anyway, I always take a peek around the merchandise stand and I bought a bag with the Zulu Winter logo on and then I almost went out of the venue when my sister poked me in the shoulder and said:
"Hey, Katherine, look! Zulu Winter are standing next to the stand!"
I looked back to the stand and I saw them there. Nobody really gave a crap about them, but I did. You've got to understand me, I am not a very confident person and I thought I'd just shrug and walk out, but then I didn't. I had this rush of confidence and I said to my sister: "Come with me," and I pulled her with me. I squeezed through the crowd and then I went to them.
I introduced myself, told them I loved the show and asked if I could take a picture. And they were more than happy to do so.
So yeah, I met Zulu Winter. Yep. Not a big problem. HOLY FUCK I MET THEM! (but I won't show the photo because I look like crap in it and I really don't want you to see me like that)
And it also happened to be one of the last shows that Keane ever did together as a band, because they recently announced that they'd split after 16 years, which is a bit of a shame, but it makes me happy that I took the chance to see them live.
And now it's been about a year since I went to a gig of any kind. I was going to see Tame Impala in August, but I had to give my ticket to my sisters' boyfriend, which sucked, big time. Anna Calvi is coming to Ljubljana in February, but I'm not a fan and tickets have all been sold out about a week ago. So far, none of the bands that I love are coming anywhere near Slovenia, which sucks. Now that I'm in the capital for the next 4 years, nobody wants to come here, for fuck's sakes!
Anyway, I hope I'll go to another gig soon, because I miss the rush of adrenaline when you sing along to your favourite song and just jump around and be crazy. I miss that really badly. PLEASE GOD, LET SOME GOOD BANDS COME TO SLOVENIA!!!
I shall talk to you soon,
xxx Katherine