*
This might contain a lot more classical music than my usual musical posts, so if you're not a fan of that, I suggest you click off... or listen to them and become an ultra fan of classical music. Also, I haven't done a top 10 in a while, so I thought it might be fun to bring it back.
10. Love Songs (2007) by Alex Beaupain
I'm not a big fan of musicals by any means, and it doesn't matter how great they are or something, but I just don't like them. I think they're massively overrated and just don't have any character whatsoever... but this one. It's French, Louis Garrel's in it and loads of other really good French actors and it's bloody amazing. The most important points of the film are sang through songs and it isn't defined as a musical, it's still a drama, but with a bit of singing. The songs are brilliant and everyone seems to have a bloody gorgeous voice and I'm just sitting here, thinking: "How the fuck is that possible?" I love the songs and I think I learned a bit of French from them.
Found on last.fm

9. Thor: The Dark World (2013) by Brian Tyler
2013 seemed to be the year for good films and exceptional soundtracks. I wasn't such a big fan of the soundtracks in the Marvel films (although I definitely like the films... *sighs* Loki), but this one surprised me beyond belief. I liked the soundtrack for the first Thor film already (especially the song when Loki destroys the Bifrost and then falls into god knows what and "dies"), but this one appealed to me as a whole unit and it was pretty brilliantly done and it fits the whole film.
Found on wikipedia.com

8. The Book Thief (2013) by John Williams
As The Book Thief is one of my all-time favourite books, I had high expectations of the film and when I watched it, I listened to the soundtrack and I thought "Hmm, who the hell wrote that? It's amazing!" and then I waited for the end credits... and I wasn't surprised at all. John Williams composed so many great soundtracks and this one is definitely one of them. Music spoke volumes and it was just perfect and I think that is the reason why I love it so much.
Found on filmmusicreporter.com

7. (500) Days Of Summer (2009) by various artists
This film is a very quirky love story about two people who love vintage things, music etc. and it just so happens to feature about half a dozen of my favourite artists who contributed music to this film. With songs from Regina Spektor, The Smiths, Carla Bruni, Feist, Mumm-ra, The Temper Trap and others, I was instantly hooked. It fits the theme of the film amazingly and it's one more reason why I love it so much.
Found on official-soundtracks.com

6. Submarine (2011) by Alex Turner
Submarine is another quirky film that needs very good music and when I heard Alex Turner's voice while watching the film, I thought I was going to fall off my chair. I am a massive fan of Arctic Monkeys, The Last Shadow Puppets and anything that has his name on it and the six songs featured in the film didn't disappoint me. There are 5 original, never before heard songs and an acoustical version of Piledriver Waltz, which was featured on Suck It And See and I happen to prefer this version much more and it also fits into the film so amazingly well and I just love it.
Found on fasterlouder.com.au

5. Merlin (2008-2012) by various composers
The thing with Merlin
is
(fucking hell) was that a lot of songs reappeared throughout all the five seasons and people thought that it was a bit boring. Some special songs were written for certain episodes, but you couldn't exactly hear them during the episode, but weirdly I didn't mind it as much. As I listened to the soundtrack, it felt perfect. It fits every episode and some songs made me sit on the edge of the chair while listening to them (like Infiltrate the Citadel). They're not badly done. I quite like them.
Found on maintitles.net
4. Bright Star (2009) by Mark Bradshaw
This one is a bit different to any other soundtrack I've ever encountered. It's pretty obvious that it was directed by Jane Campion and it is so perfect! It contains some music and then there are spoken dialogues directly from the film and then Abbie Cornish and Ben Whishaw read some of Keats' most well known poems, which is the most original idea for a soundtrack I've ever encountered. It's like a lullaby to me and it always makes me sleep so much better.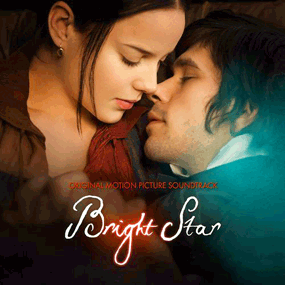 Found on moviemusic.com

3. Becoming Jane (2007) by Adrian Johnston
Again, this is a soundtrack that is a bit more complex and a tad bit longer than any other, but it's really good, because it doesn't focus on only one instrument (like Pride and Prejudice exposed mostly the piano and the string section), but it's focused mostly on orchestral music, which I appreciate very much. What I liked the most about it is that it doesn't seem like it was written in this century. Yes, of course, it has to sound like it's not from this century, but a lot of people find ways to sneak the present music (like harmonies and rhythm) into the songs, but this in all honestly sounds like classicist songs. A person who doesn't listen to much classical music could easily replace it with something from that era, so I give it bonus points for that.
Found on last.fm

2. Doctor Who Season 7 Soundtrack (2012/2013) by Murray Gold
I'm not usually a big fan of Doctor Who soundtracks as a whole unit. There are songs that absolutely break my heart or make me sit on the edge of my seat or something, but there are some that I really don't like. Season 7, however, didn't disappoint me. This season was split into two parts prior to the Ponds leaving and the soundtrack is split into two parts. In the first part, the songs quote some old, already-heard themes (like Amy's Theme), and then the other introduced us to a new companion and eventually, Clara's Theme (which I love because the flute has the main part in the beginning). It still had some strange melodies in between (like Save Us and A Machine That Makes Machines), but they didn't bother me as much, which is very weird. One small fact, the first part of the soundtrack didn't include the quotation of I Am The Doctor, but the second part did and that made me really happy (in I Might Change My Mind). It's one of my favourite soundtracks so far and I can't wait for the new season!
Found on wikipedia.com
1. Pride and Prejudice (2005) by Dario Marianelli
Holy crap, this film... this soundtrack... It's like heaven for any classical music and since I'm studying music and it will be my profession one day (hopefully), I am completely in love with this soundtrack. The melodies are so simple, yet it's not the easiest soundtrack to perform, but it sounds amazing and some melodies are so emotionally overwhelming and I can easily imagine certain scenes while listening to certain songs (for example: the song The Militia Marches In... You can just hear Lydia and Kitty throwing their white handkerchiefs at the marching soldiers). From an Oscar-winning composer, I would expect no less, because this is certainly the bestest (I had to say that, I'm sorry) soundtrack I have ever heard in my life and I have a copy of it on my laptop and I listen to it constantly when I'm in a Jane Austen/18th or 19th century mood.
Found on filmmusicsite.com
YouTube has every single one of those soundtracks somewhere on their website, go and look them up, because they're amazing. It will be worth your time, I guarantee you that. Seriously, stop listening to the shit you usually do and look these up, listen to some quality music for a change.
I'm only joking! :) I'll see you soon!
xxx Katherine