All photos in this blog post found on rtvslo.si, I do not own any of them.


It's been two years since the last gig I went to... until last Sunday, a week ago.
The main reason I went to see OneRepublic wasn't the fact that I was a fan; in fact, I was quite the opposite. I could bear their music, but I wasn't too fond of it. You know, running a blog on indie music has kind of planted the idea in my head that mainstream music or really well known music in general is shit... well, then half of the classical composers I adore should be shit according to that theory... when they're not.
When they announced that they would be coming to Slovenia sometime in May, I told my best friend... and I had no idea that she was a massive fan. I got her two tickets for her belated birthday present and I thought she was going to cry like a baby when I told her. In fact, she just screamed of joy at me.
I was kind of certain that I wouldn't enjoy this concert, purely because the music wasn't my cup of tea, really, but I guess that musical taste changes (like I have already said in my blog post that I posted aaaaaaages ago on musical taste), so I spent the summer getting to know their music and secretly, I was becoming a fan... and then I started counting down half a year to the gig. Yep. Everything turned upside down.
Their gig opened with the traditional mashup of
Don't Look Down
and
Light It Up
, hidden behind white canvases, just to really make the crowd anxious and scream like crazy. The next thing you know, the canvases dropped and bam. I officially saw Ryan Tedder in the flesh and it was kind of an overwhelming moment, like with all gigs. Your initial reaction is: "Holy shit, I've seen this person on YouTube, they've done so many things, they're incredible and now, they're here! In front of my eyes! Oh my god!" and I was a bit overwhelmed, but then... you kind of forget about it, because you just scream and sing your heart out.
Further on in their show, they performed Secrets,
All The Right Moves, What You Wanted, Stop and Stare, Something I Need
, mashup of
Apologize
and Sam Smith's
Stay With Me
, the cover of George Ezra's
Budapest, Come Home, Good Life, Spanish Guitar Medley
(holy crap, that song was freaking amazing),
Counting Stars, Can't Stop, Au Revoir, Feel Again, I Lived, Love Runs Out
, a cover of Louis Armstrong's
What A Wonderful World
and of course,
If I Lose Myself
.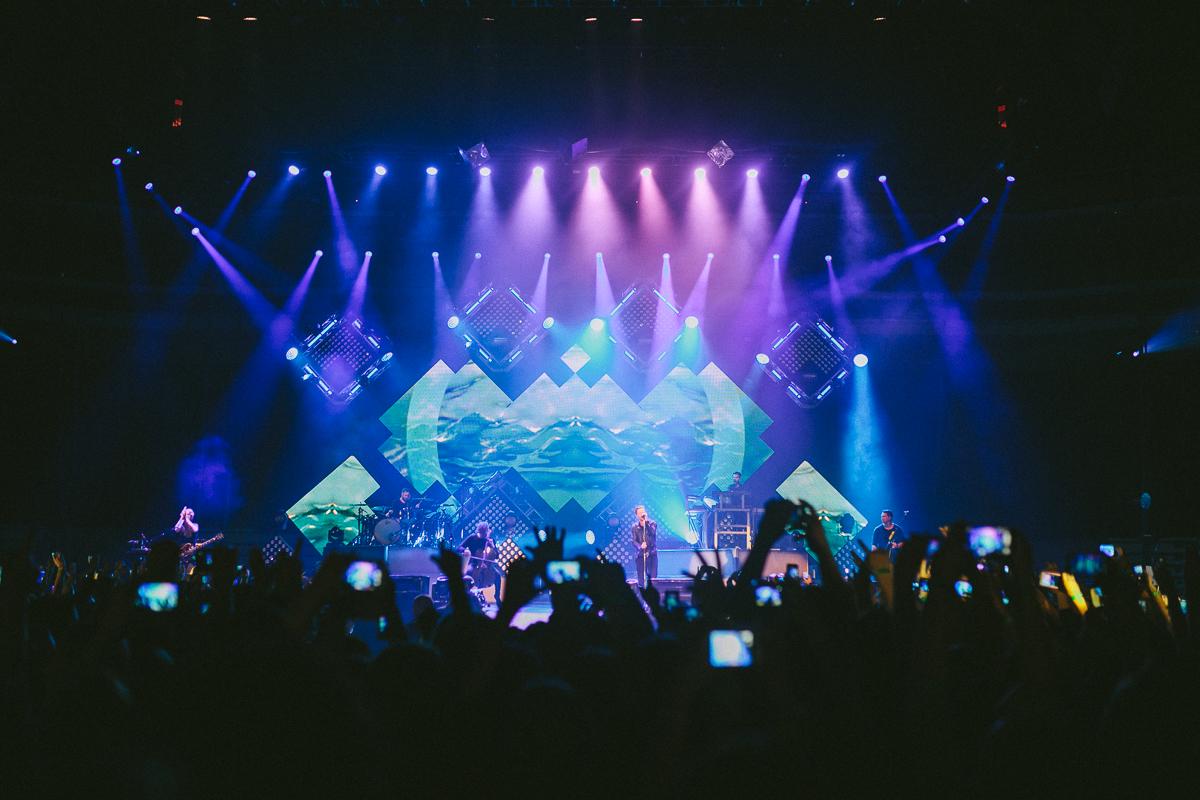 I go to most gigs with a very open mind, because you never know, it might be a good one, it might be a not-so-good one. This one was a very good one. The arena in which it took place is quite well known for their sound-tech disasters (failing microphones and speakers, you can't hear the guitar because the drums are too loud or the other way around), but that day, they got it spot on. I was about ten metres away from the stage and where I stood, the sound was very amazing, the lighting effects were brilliant,
This was also the first completely sold out gig that this arena ever had and for some reason, a lot of people thought that to be bad... how the fuck? Slovenia is such a small country and most of the concerts that are supposed to happen here are cancelled about three months before it happens. Selling out gigs should be a good thing and it is. Holy crap. Some people are genuinely stupid when it comes to that.
I massively digress.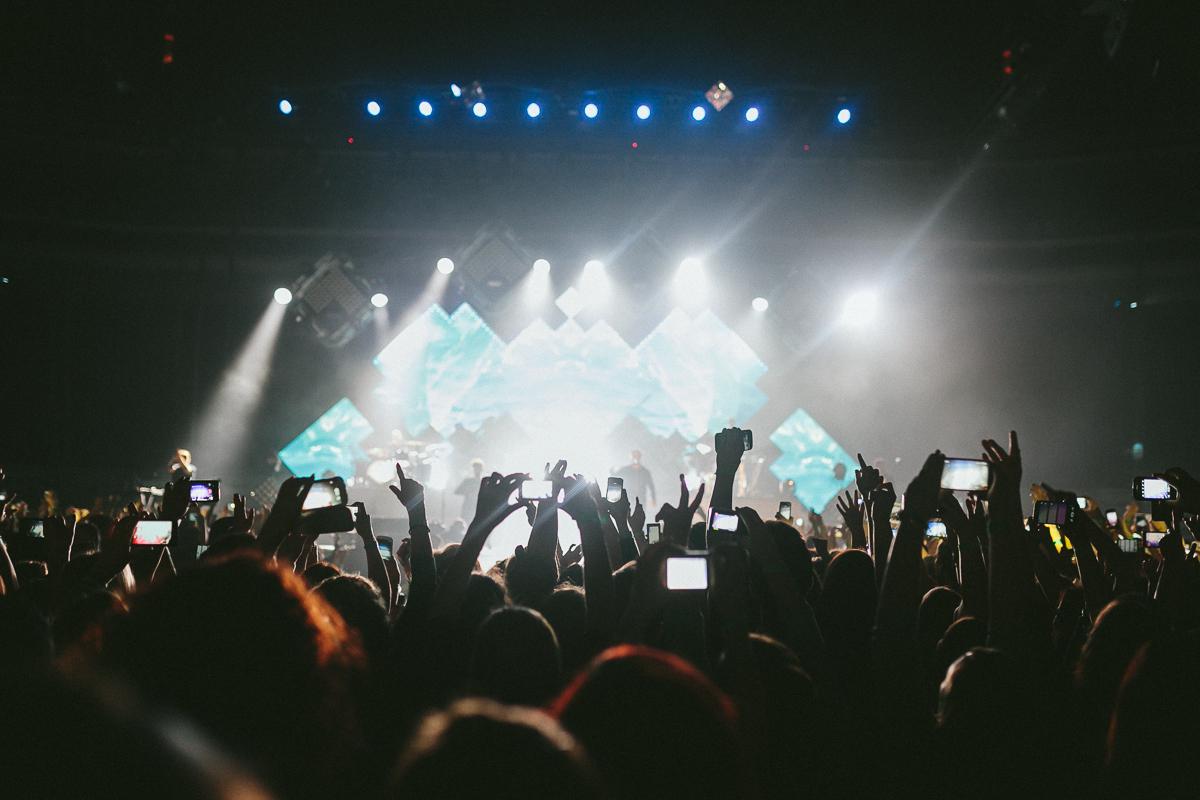 Away from the technological and somehow weird things when it comes to selling out venues, let's talk about the actual performance itself... it was freaking brilliant. I have seen a number of gigs in my lifetime and when a certain artist can make the whole crowd jump like crazy and scream and shout and sing along and even someone like me, who is not into the whole mainstream genre, then you know it was a good one. The energy of the whole crowd was off the charts, the atmosphere... I can't even describe it, it was that good. And bear in mind, I'm a fan of strong guitar rifs and classical music.
In the end, I wasn't disappointed. It was definitely worth the 40€ I paid for the ticket, because it's an experience that I can guarantee will not be forgotten easily, also partially because of the interaction between the band and the fans. Sometimes, they might not even speak during the gig (well, they might introduce themselves, but that would be it), whereas then, they genuinely spoke full on with you, asked the crowd about how we're doing and just everything like that in general. I really highly appreciated it, because these really successful bands can sometimes forget why they're so popular... because of their fans.
It was a brilliant concert and if you're a fan of their music, or at least know some of their songs, then I urge you to visit their gig, because it is worth the money and it's so amazing. I can't give them any more praise than that, so I shall leave it as it is and I shall see you soon!
xxx Katherine